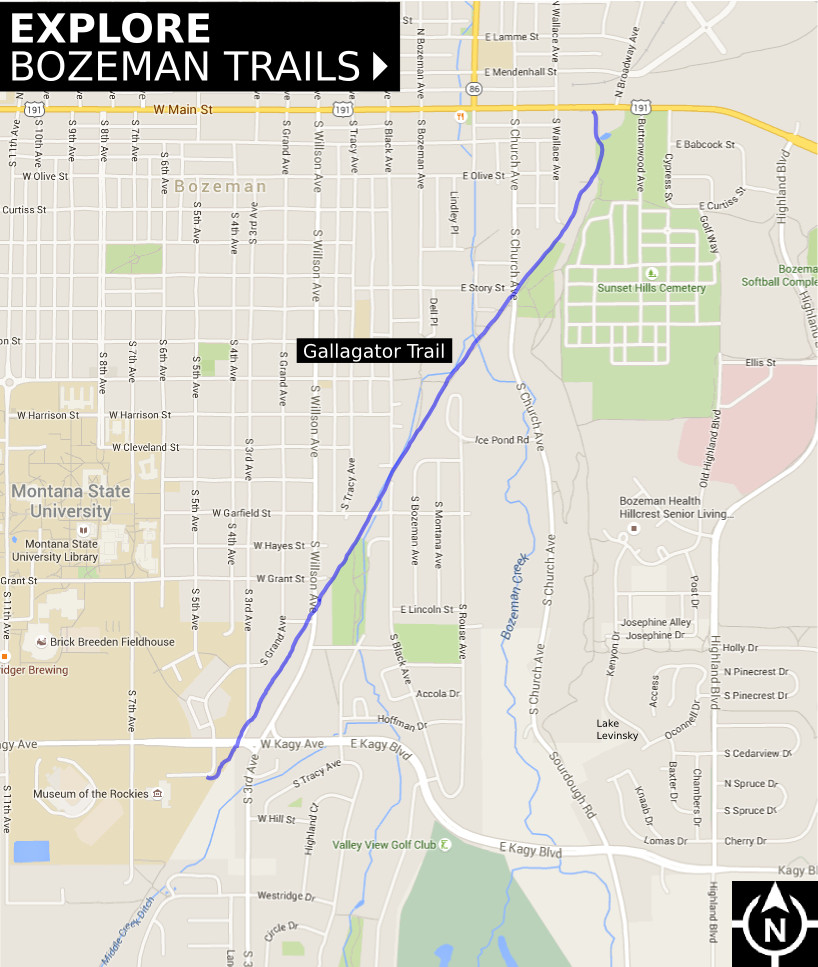 Bozeman Gallagator Trail
Rated:
(4 / 5)


Difficulty: EASY


The Gallagator Linear Trail runs diagonally for more than 1.5 miles through the east side of Bozeman. The trail, which has a crushed stone surface for the vast majority of its route but is paved at its north end, is popular with families on bike or foot.
The trail occupies a portion of a former rail bed originally used by the old Milwaukee Railroad's electric passenger train line from Bozeman to Gallatin Gateway, which was abandoned in the 1930s. Beginning in the north at the Bozeman Public Library on Main Street (look for the placard about the trail on the east side of the library), the trail extends southwest, passing by the foot of Peets Hill (a favorite sledding spot in winter). After crossing Bozeman Creek and Matthew Bird Creek, the trail passes the site of the old Ice House.
South of Garfield Street, a spur leads to community gardens and a climbing rock. The trail ends in the parking lot of the Museum of the Rockies at Kagy Boulevard and 3rd Avenue. Tour the natural history museum to view its extensive collection of fossils, including the largest collection of Tyrannosaurus rex fossils in the world.
Explore all of Bozeman's Hiking Trails.
Related Content