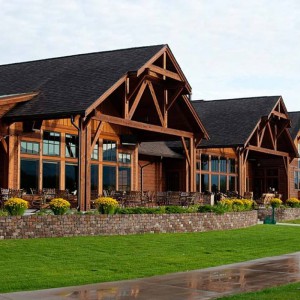 Riverside Country Club is a member-owned Club established in 1959. The club is located on the north end of Bozeman, set under the Bridger Mountain range and borders the East Gallatin River.
Riverside Country Club has an 18-hole championship golf course offers a traditional layout and puts a premium on shot placement off the tees. Each hole offers its own unique challenges and rewards. The course design makes walking the course a tremendously enjoyable experience. Our award-winning golf shop is stocked with clothing and equipment. The top quality tennis facility features six hard courts, two platform tennis courts and its own log cabin-style tennis shop. Our tennis facility is considered the best in the valley and we have the only platform tennis courts in Bozeman. Our swimming complex includes a large pool, children's pool, changing area, snack bar, diving board and slide. Members also have access to poolside parties, water aerobic classes and both group and private swimming lessons.
Dining at Riverside Country Club
Riverside Country Club offers three dining options to meet your needs. Relaxed, casual meals for families; quick meals after a game or golf or tennis or elegant social gatherings are distinctly accounted for in our three unique dining venues: Bridger View Dining, The Mallard Grille, and The Patio.
Golf at Riverside Country Club
The Riverside golf course is fair, challenging and truly enjoyable for men, women, juniors and seniors. Set under the Bridger Mountain range and located on the East Gallatin River, the course absolutely showcases the natural beauty of Montana.
Racket Facilities at Riverside Country Club
The Riverside Racket Center is considered one of the "best in the valley" and the facility includes:
Management by an award-winning USTA Certified Racket Professional
Six hard tennis courts with wind screens with Court #6 dedicated for Pickelball
Two steel paddle ball courts with wind screens for our Paddle Tennis Program
Backboard hitting area
Use of the automatic ball machine
Benches and umbrellas to provide respite between sets
An outdoor pavilion equipped with a ping pong table
A "log cabin" racket shop showcasing tennis apparel and accessories
Racket repair and stringing services
Pool at Riverside Country Club
Riverside Country Club's Swimming Pool Complex includes:
A large pool for swimming laps and water aerobics
A fully filtrated baby pool in which to acclimate your little ones to water
Locker Rooms with storage, showers, and restrooms
Slide & Diving Board
Splashes Snack Bar offers on-site healthly and good snacks.
Related Content