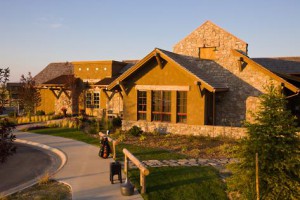 Black Bull Golf Course is located on the west side of Bozeman and is the premier private golf course situated in the heart of the Gallatin Valley.
Black Bull Golf Course
Designed by Tom Weiskopf(former British Open champion and award-winning golf course architect) the Black Bull Golf Course is a 19 hole, 7200 yard, par 72 championship course. It is challenging yet eminently playable. The course blends native landscaping, beautiful backdrops, and an abundance of water features in magnificent harmony. Tom considers the bunker layout as being, "reminiscent of the style that was prevalent during the turn of the 20th century."
Black Bull is a master-planned private golf community and is 40 minutes from the Big Sky Resort Ski Area. The 485 acre Black Bull development features a gently rolling landscape and panoramic views in every direction. The full service club includes walking paths, a fitness gym, pool, and superb dining amenities.
Black Bull Golf Course Club House
The Black Bull Private Golf Club's activities are based in and around the Corral Clubhouse for both Golf and Social Members. It features men's and women's locker rooms, a shoeshine area, a golf shop, a Bar and Grill, and direct access to the Pool & Fitness Center. Originally designed as the turnhouse for the course, the Black Bull Clubhouse has timber and stone accents, and expansive picture windows enhance the breathtaking views of the Gallatin Valley and surrounding Rocky Mountains.
Black Bulll Pool & Fitness Center
Designed to be reminiscent of "old barns" typical to the area and other agricultural vernacular elements, the Pool & Fitness Center encompasses over a half-acre with 10,000 square feet of pool deck, 1,100 square feet of locker rooms, and an 1,800 square foot fitness area. The fitness area opens up to outdoor covered workout and lounge seating, but the focal point of the sun-drenched patio is the collegiate-size 30 foot by 82 foot pool.
Black Bull Homes
Black Bull homes are a short drive to Gallatin Valley Mall, movies theaters, various churches, local eateries and coffee houses. From Black Bull it is a 20 minute drive to the Bozeman Yellowstone International Airport, and just 10 minutes to Montana State University.
Black Bull's 376 Club Homes and home sites are located on 485 acres that originally comprised the historic Leachman Angus Ranch, and offer panoramic views of five mountain ranges. The development is an ideal location for home buyers seeking top-notch amenities, world-class golf, convenience, and value in the scenic Gallatin Valley. The Black Bull Club Homes are designed by award winning architect, Jerry Locati, who is known for his location-inspired mountain home designs. The Club Homes deliver custom home quality with 'turn-key' convenience (including snow removal and lawn care), for those who prefer to spend more time golfing, fishing, or relaxing than mowing their lawn. Any of the Club Home models can be customized to fit your individual tastes and priorities, with many finish options to choose from—from contemporary to mountain rustic.
Schools near Black Bull include Secret Garden and Middlecreek Montessori schooles, as well as Gallatin Gateway School, Monforton, Emily Dickinson Elementary School, and Bozeman High School.
Related Content