Rated: [usr 4.5]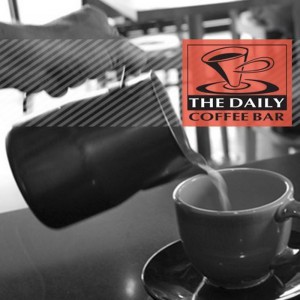 The Daily Coffee Bar is a unique coffee shop with two locations in Bozeman, MT that was started in 1993. Since that time The Daily Coffee Bar has evolved and grown into a Bozeman institution.
A lot of love goes into everything they create. Every latte, pastry and food item is handcrafted from scratch using local, organic ingredients whenever possible. They like to think of themselves as food and drink artists, passionate for a rockin' cup of coffee and a freshly baked pastry or satisfying lunch item.
The Daily Coffee Bar serves fair and sustainable Yellowstone Coffee, artisan roasted by Tim and Liz Weyer. The Weyers carefully select their beans and roast them in a small batch roaster. They enjoy the art and technique of bringing something special from the farm to your cup. 12oz whole bean bags, medium and dark roasted, are offered for sale at each location.
The espresso blend is unique to The Daily Coffee Bar and roasted especially for us. The flavor characteristics and notes include: full bodied, fruit forward, sweet, chocolate and smooth. We work closely with our roaster to offer a consistent shot of espresso, every time.
Bakery
Muffins and Scones
Coffeecake and Caramel/Cinnamon rolls
Savory Croissants
Bars and Brownies
Cookies and Biscotti
Cakes and Tarts
Gluten-free and vegan options available.
Breakfast
Frittatas
Breakfast Sandwiches – meat and vegetarian options
Breakfast Burritos – chorizo, bacon, or vegetarian with house-made salsa
Yogurt Parfaits – with house-made granola
Lunch
Fresh Soups – vegetarian options available
Green Salads
Curried Quinoa Salad
Kale Salad
Greek Pasta
Grilled Paninis – meat and vegetarian options
Grilled Quesadillas
The Daily Coffee Bar
Related Content