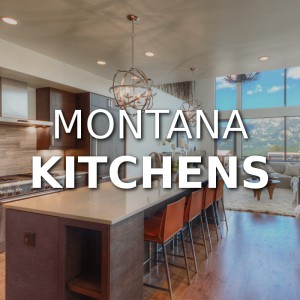 Browse photos of Montana kitchens and designs. The kitchen is the first thing that most buyers look at. Discover inspiration for your new home, kitchen remodel or upgrade with ideas for storage, organization, layout and decor. Montana kitchens need to be both beautiful and functional. Regardless of your kitchen design style, organization and layout are essential.
Designing and creating your kitchen can be challenging, but looking at creative kitchen design and remodeling ideas is a great place to start. A popular trend among the Kitchens presented here are the combined kitchen, dining area, and living space. Kitchen islands allow cooks to work, while guests can sip and chat.
Open cabinets are another trend, and make a kitchen feel hospitable but special attention needs to be paid to keeping the shelves clean and organized. If an item is used more than once a week, have it out on display. If it is used a few times a month, store it in a cabinet. Items used only a few times a year can be placed in less convenient storage areas.
Rustic kitchens may feature eco-friendly reclaimed wood floors and cabinets.
Montana Kitchens