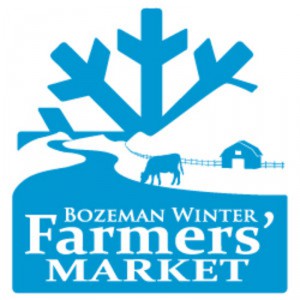 The Bozeman Winter Farmers Market takes place at the Gallatin County Fairgrounds
Exhibit building 1 during the autumn, winter & spring months. Winter farmers markets traditionally offer staples like potatoes and onions. However, due to advances in growing in greenhouse and hoop houses local area farmers are now able to provide fresh greens like herbs, cabbage, carrots, beets, radish & garlic throughout the fall, winter & spring.
In addition to vegetables, during the months of September through April, the Bozeman Winter Farmers Market provides grassfed meats, cheeses, farm fresh eggs, fermented vegetables & kombucha, honey, artisan breads & baked goods, syrups, jams & preserves, grains & oils, wool, locally grown and blended teas, ethically sourced coffee, locally-pressed juices, local sourced hot breakfast, music and much more.
Bozeman Winter Farmers Market
Many farmers and producers work to meet the Bozeman community's need for local food and agricultural products, and participate in the Bozeman Winter Farmers Market including:
PRODUCE
Gallatin Valley Botanical
Amaltheia Organic Dairy
Running Strike Farm
Geyser Farm
Three Fiddles Farm
Crazy View Farm
CHEESE
Amaltheia Organic Dairy
Poor Orphan Creamery
MEAT
Amaltheia Organic Dairy – pork
Yellowstone Grass Fed Beef
Rancho Picante Bison
Poor Orphan Creamery – Lamb
EGGS
M&M Farms
Gallatin Valley Botanical
Amaltheia Organic Dairy
BREAD
Sinclair's Bakery
JAMS & JELLIES
Roots Kitchen & Cannery
Red Hen
MONTANA GROWN GRAINS & OILS
BioOmega
Prairie Heritage Organically Grown Grains
FERMENTED FOODS & EDUCATION
Geyser Farm
Jody Engstrom
COFFEE, CHAI & ITALIAN SODAS
Little Red Wagon Coffee Roasters
Third-Eye Chai
Roots Kitchen & Cannery
BREAKFAST
Claudia's Mesa
Sinclair's Bakery
BioOmega
Senoritas
SOAPS, SALVES & LOTIONS
Camp Creek Soap
The Friendly Flower
NON-PROFIT GROUPS
Valley of the Flowers Project
VIEW ALL UPCOMING BOZEMAN FARMERS MARKET EVENTS
Information
GALLATIN COUNTY FAIRGROUNDS
901 N Black Ave
Bozeman, MT 59715
Get directions
Location
Related Content