Rated:
(4.8 / 5)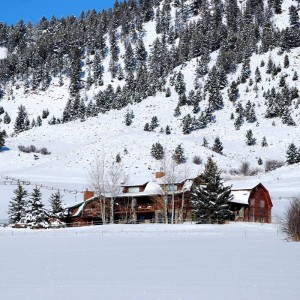 Set on 42 acres in picturesque Bridger Canyon, Howlers Inn is a unique Bed & Breakfast experience in a beautiful, pastoral setting. Heralded as "the best lodging in Bozeman" by Travel & Leisure Magazine, and ranked as the top B&B in Bozeman by TripAdvisor, Howlers Inn Bed and Breakfast offers the discriminating traveler something a little different, something a little more.
Close to Yellowstone National Park, prime fly fishing waters, and downhill or X-Country skiing, Howlers Inn is a great location for a genuine Montana experience.
Nowhere else in America can you stay in a romantic log home bed and breakfast and be welcomed by the songs of a resident wolf pack. Add to that luxurious bedrooms (each with a private bath), delicious breakfasts, a list of amenities that includes a sauna, hot tub, pool table, outdoor playset, handmade soaps, and many more, and you will see why Howlers Inn is "a breed apart" . There is something here for everyone, Howlers Inn is child friendly and children of all ages are welcome.
Howlers Inn
Related Content