The City's slogan is "Bozeman: The Most Livable Place." The City's parks, recreation programs and facilities, open spaces, and trails play a vital role in defining Bozeman as "the most livable place." This plan represents the City's desire to proactively plan for these amenities; to achieve excellence in meeting both current and future needs.
Parks, recreation programs and facilities, open spaces, and trails are community amenities that contribute greatly to the quality of life enjoyed by Bozeman area residents. In fact, opinion surveys, conducted as part of Bozeman's Community Planning Process, identified "access to outdoor amenities and recreation" as one of Bozeman's most desirable community characteristics.
Bozeman and the planning area are crossed with numerous rivers, streams and irrigation canals. These watercourses and associated riparian areas greatly influence the physical location of recreational lands with many parks and open spaces containing watercourses, and many trails running along watercourses. Most of the creeks flow from the southeast to northwest to the Gallatin River.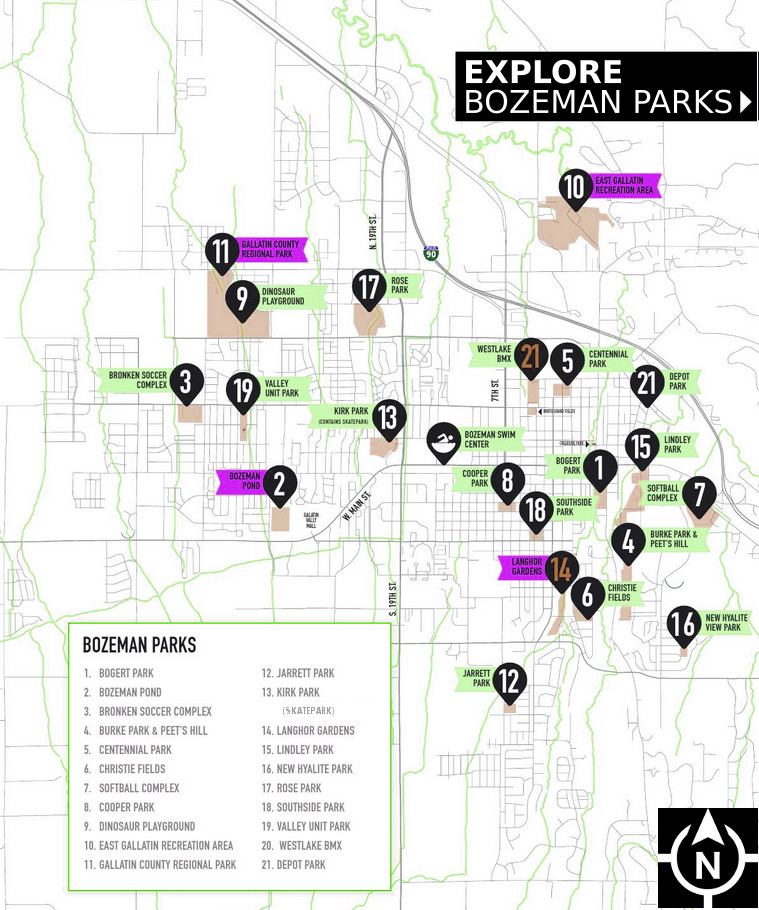 1. Bogart Park
Bogart Park is a 7.5 acre park located on South Church Ave. & Bogert Place. This well known Bozeman park has just anything you could need in a playground/park. There is an open field for sports as well as shelter in case of rain or just to enjoy the shade. The playground consists of one of if not the best 2-5 year old playgrounds that is safe enough to let the little ones roam. Next to the toddlers' playground is the big kids playground with fun metal obstacles to climb and hang from as well as some classic swing sets. Bogert Park has free City Band concerts on Tuesday nights in the summer and hosts the Tuesday Evening Farmer's Market from June through mid-September. It has ice skating in the winter.
2. Bozeman Pond
Bozeman Pond is a 16.5 acre park located at Huffine Lane & Fowler Ave. The Bozeman Ponds are located just west of the Gallatin Valley Mall, and are popular for swimming, kayaking, picnicking, and sand volleyball. Bozeman Pond is a day use only site. A boat launch, toilets, water, swimming and access for camp trailers is available. Open all season. Managed by the City of Bozeman.
3. Bronken Soccer Complex
Bronken Soccer Complex is a 39 acre park consisting of 13 acres of soccer fields and roughly 26 acres of wetlands. It is located on the S.W. corner of Durston and Cottonwood Rd.
4. Burke Park & Peet's Hill
Burke Park consists of approximately 40 acres of accessible land created in 1992 thanks to the generosityof the Burke family and efforts of many community partners, including the City of Bozeman and the GallatinValley Land Trust. In November 1997, Burke Park was established as a leash free park Burke Park is not fenced. Burke Park is key to the trail System "Main Street to the Mountains" and is a treasured wildland within the city
from which spectacular views are enjoyed. Since the dedication of Burke Park in August 1993, the public has come to use it heavily throughout all seasons. It is almost impossible to visit the site without seeing other people enjoying the paths and views. The north end of the park, referred to as Peets Hill, is now an even more popular sledding hill with recent safety improvements such as a berm at the base to prevent sleds from running out into south Church Street or into the Mill Ditch. The old shack at the bottom has been repaired, painted and improved as a warming hut.
5. Centennial Park
Centennial Park is a 2.5 acre park located on North Tracy Ave. & West Cottonwood Street. The land that now is Centennial Park was set aside by the city in 1934. The land had been used for various things during the years, including a housing complex that was torn down in the early 1980's to make way for the development of the park. Major improvements were made in 1983 including the removal of a gravel driveway, the building of a small berm for sledding, the addition of topsoil, tree planting, and water service for irrigation.
6. Christie Fields
Christie Fields is a 8.3 acre park located at South Black Ave. & East Mason Street that has 3 Baseball/Softball fields.
7. Softball Complex
29 acre sports complex with 5 fields located on Haggerty ln.
8. Cooper Park
Cooper Park is a 4.1 acre park located South 8th Avenue & West Koch Street. Cooper Park was established in 1883 by Nelson Story, Walter A. Cooper, and their wives. The park was deeded to the City of Bozeman on August 27, 1890. The park was originally named "City Park" By Story and Cooper. The name was changed to Cooper Park on May 8th 1924 after Walter Coopers death. In the 1930's there were extensive improvements made to the park, including tree planting and installation of underground restrooms. Most of the trees that were planted during this time were spruce and cottonwoods and many have been replaced over time with elms and other more desirable species. Lights were installed in the 1970's for safety and vandalism prevention. In the late 1980's, underground irrigation sprinklers were installed to water the park. The park was included in the Cooper Park Historic District that was established in 1996.
9. Dinosaur Park
The Dinosaur playground is located just off the corner of Oak Street and Davis Lane near the Gallatin County Regional Park. Easily the fan favorite of Bozeman. The Dinosaur playground is home to several fun and educational dinosaur sculptures that will capture the fun and imagination of children for years to come. In addition to the dinosaur sculptures, the playground provides safe entertainment for both toddlers and older children. The park consists of slides, swings, "dino dig" sandboxes, a rock climbing wall with safety surfacing, mazes and much more. The Dinosaur Playground was built by volunteers from the community using donated materials and tools on June 10th-14th 2009.
10. East Gallatin Recreation Area
The East Gallatin Recreation Area (also known as Glen Lake park, and as "Bozeman Beach") is a 90 acre park located on Manley Road. The area is named for the small East Gallatin River forming the east edge of the park. The park has a large lake, a sand beach, picnic tables and shelters, playground, climbing boulder.
11. Gallatin County Regional Park
The Gallatin County Regional Park is located between Baxter and Oak on Bozeman's west side and encompasses some 100 acres along Davis Lane. The Gallatin County Regional Park currently has two lakes, stocked with rainbow trout, a sledding hill, walking/jogging trails and a gigantic Dinosaur Park for the kids. A swimming beach, outdoor amphitheater, ball fields, plans for a new YMCA, and a massive skate park are all in the works for the near future.
12. Jarret Park
Jarret Park is a 1.9 acre park located on Westridge Drive.
13. Kirk Park
Kirk Park is a 13.3 acre park located at 20th Avenue & W Beall Street with the main attractions of a skateboarding park and a baseball diamond.
14. Langhor Gardens
Langhor Gardens is a 12.36 acre park located at South Tracy Avenue & West Mason Street.
15. Lindley Park
Lindley Park is very close to Bogart Park and is large and hilly with many beautiful, old trees. Lindley Center is a cabin that can be rented through Parks and Recreation for gatherings and parties (capacity is approx. 100 people).
16. New Hyalite Park
New Hyalite Park is actually 3 different parks located in the New Hyalite View Subdivision, located on the east side of Highland Boulevard. Locals refer to this subdivision as the neighborhood with the "tree streets." The 3 parks are 11.74 acres, 3.34 acres, and 27.68 acres in size.
17. Rose Park
Rose Park is a 20.51 acre park located at West Oak Stree & Woodland Drive. It has a 12-hole disc golf course, and is one of the only places to play disc golf in Bozeman.
18. Southside Park
Southside Park (College and 5th Ave.) has a field for playing various sports, tennis courts, and ice skating in the winter.
19. Valley Unit Park
Valley Unit Park is a 8.594 acre park located at Durston Road & Cascade Street. A stream runs through the middle of the park. The playground area contains slides, monkey bars, and swings.
The park has a full court basketball court with clear plastic backboards and a giant field for kids to play soccer, baseball or whatever they like. In winter people may cross country ski through the park and young children can ride their sleds down the sledding "bump." An area near the playground may be be flooded for ice skating. At the north end, wild grasses are planted in an area that also serves to retain water.
20. Westlake BMX
Westlake BMX Park is 5.9 acres located at North 5th Avenue & West Tamarack Street.
21. Depot Park
Depot Park is a small park located near the old railroad depot, at the corner of Aspen and Front streets. It is the location of one of the 5 Man Made Climbing Boulder locations in Bozeman.
Beall Park
Beall Park is a 2.2 acre park located at North Bozeman Avenue and Villard Street. Beall Park is home to the City Recreation Department Office. The building can also be rented for events and the park has ice skating in the winter.
School Park
While we don't have any images of this playground yet, it is worthe mentioning. Right off of Mendenhall and Church, this school has a killer playground. Wood chip bedding that's easy on the feet and the clean up afterwards. And I really wish we had photos because some of the features are difficult to explain. One is an offset wheel that is about 6 feet in diameter and when you run on it, it begins to spin. Somewhat like a horizontal hamster wheel, if that puts a good picture in your mind!
Farmall and Durham Street Park
This park is relatively new and right in the middle of a neighborhood. This is great because neighboring kids can always see if someone is out there and come and join in playing. The j8ngle gym portion is pretty great too. It contains slides, steps, multilayer bars, and one of those circled polls you can sit on and spin around until you're at the bottom! I loved those as a kid. There is plenty of nice benches and picnic tables around to sit all in clear view of the action going on in the playground.
Also there is a large park and basketball court right next to the playground.
Off Leash Dog Parks
Burke Park
Snowfill Recreation Area
Canine Beach at the Bozeman Ponds
Behind field 4 at the Sports Complex off of Highland Blvd.
Regional Park off of Oak St. (A portion, see map)
Cooper Park
Centennial Park – 5:00am until 9:00am
Ice Rinks
Bogert Ice Rink
Beall Ice Rink
South Side Ice Rink
Pavilions
Beall – Pavilion
Bogert – Bandshell
Bogert – Pavilion
Bozeman Ponds – Pavilion
East Gallatin Rec. Area – Pavilion
Kirk Park North – NW Pavilion
Kirk Park South – SE Pavilion
Lindley Park – Pavilion