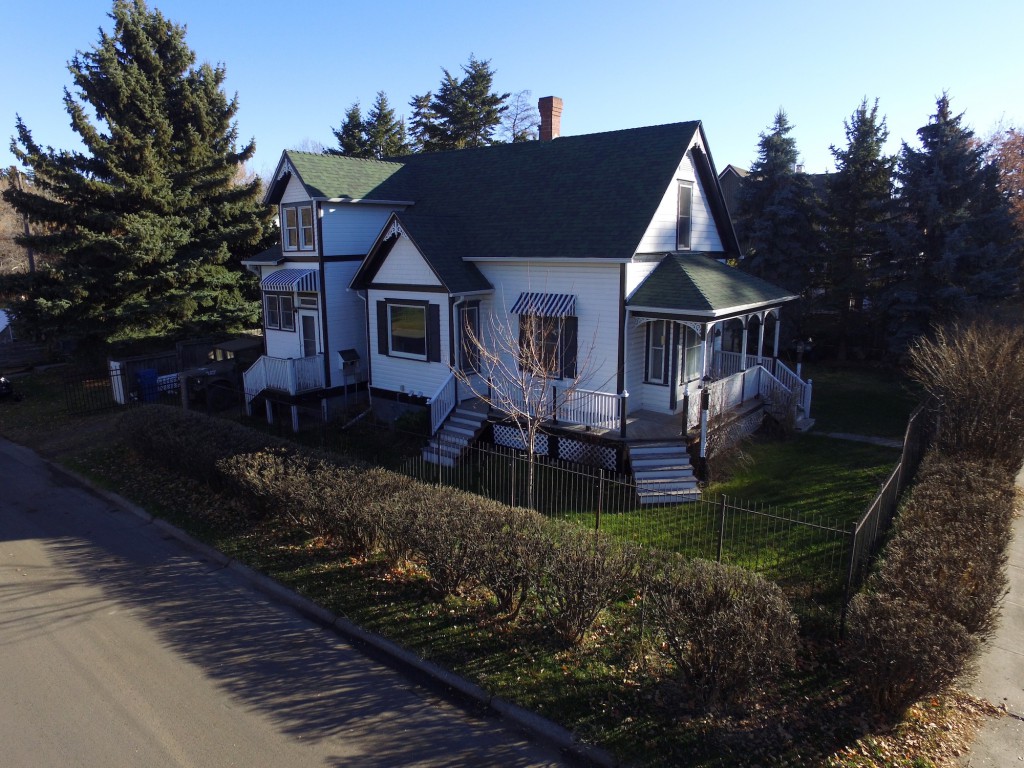 Rare opportunity to purchase one of Bozeman's historic homes 12 blocks off Main St. Home has numerous updates including a rebuilt, poured foundation for walkout basement, complete electrical/plumbing/gas/insulation upgrades, new double pane windows. The original character and charm of the home is retained through wood floors, crown moldings & exterior siding. Private fenced back yard, and detached 2 car garage. Property is zoned R-4. There may be an opportunity for a basement apartment – buyer to verify.
Please contact our Bozeman Real Estate Agents to view this home.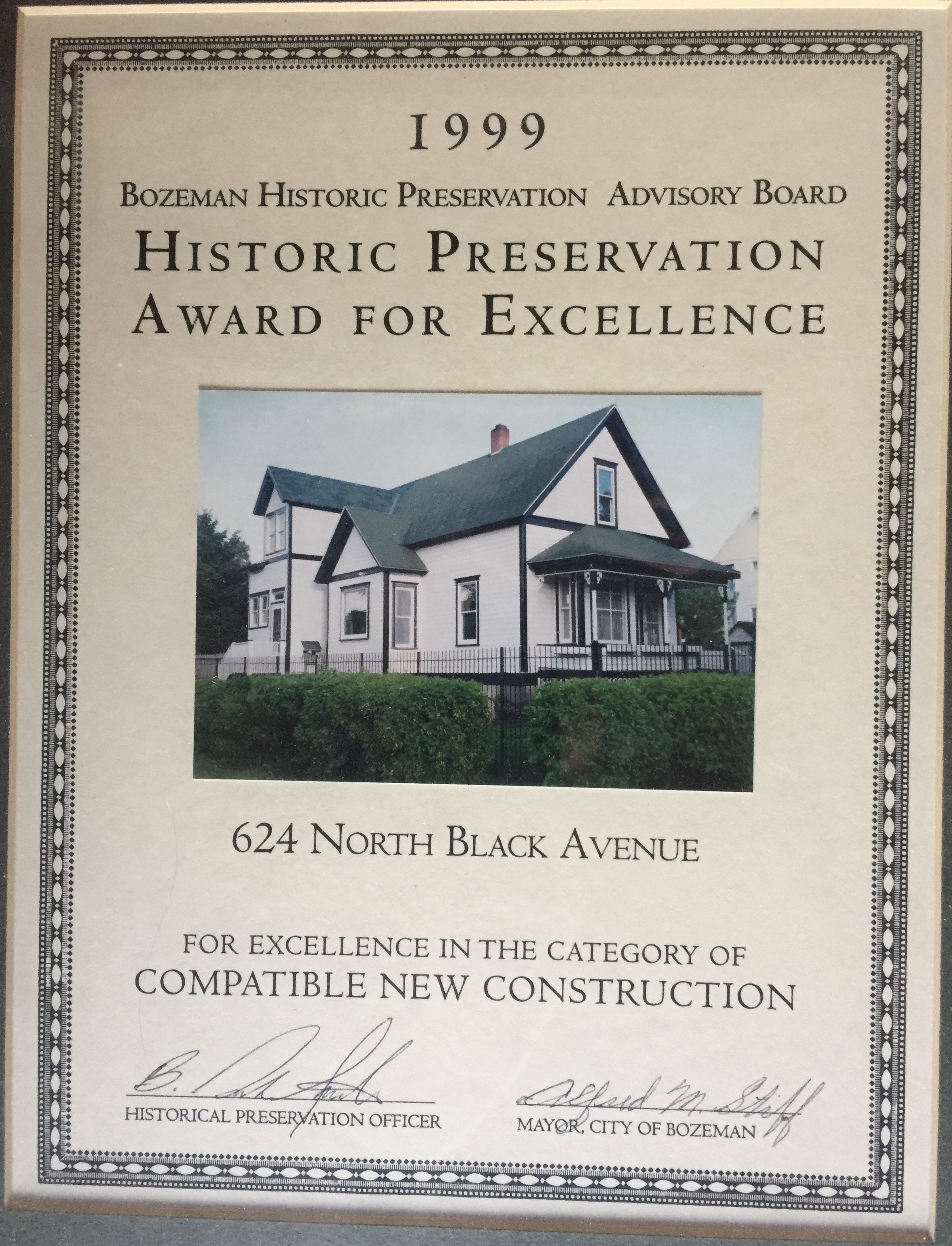 Across the housing industry nationwide, homeowners are searching for the authenticity, character and quality craftsmanship a historic home provides. The more educated the buyer is on the challenges involved, and knowledgeable about what to look for, the easier the process becomes. 624 N. Black Ave is a historic Bozeman, Montana home from the early 1900's(est 1902).
624 N. Black Ave was a recipient of the Historic Preservation Award For Excellence in 1999.
The 2,612 sf home has been structurally updated leaving an energy efficient, quiet home located in downtown Bozeman just 12 blocks off of Main Street. Thoughtful measures were taken to retain the original charm and character, while upgrading the bones to turn it into a modern family home. Following is a list of just a few of the projects and costs the owner tackled during the renovation.
1. Foundation Work: When the 624 N. Black Ave property was purchased, the stacked stone foundation looked great, but ultimately the owner recognized that exposed rock and mortar foundations will always breathe, sweat and disappoint anyone expecting a modern basement experience. Gallons of sealer can be applied, but it will eventually fail. The owner paid to have the home lifted off of the stone foundation, removed the existing rock foundation, dug a deeper and wider basement, then poured a new foundation to accommodate 7′ 10" ceilings, egress windows, and an external entrance with sliding glass door.
2. Sewer Line: Older homes frequently need to have their sewer line replaced. While the 624 N. Black Ave home was lifted, the owner had the sewer line replaced all the way to the street.
3. Gas Lines: Installing and repairing gas pipes is one of the more labor-intensive and skill-intensive home improvement projects that can be undertaken. It deals with highly flammable, potentially deadly gases and requires the right materials and proper procedures. Gas lines must be calibrated for the right BTU levels. Mistakes could lead to leaks or compromise the integrity of the piping, which could lead to explosions and the potential destruction of property. The 624 N. Black Ave home's gas lines have been completely replaced all the way to the street to allow for a gas furnace and hot water heater.
4. Plumbing and Water Line: Cast iron and galvanized piping should be replaced after about 50 years to assure good water quality and to prevent leaking. Copper is unquestionably the premium choice because it has a long and proven history. Copper piping has been used for 80 years and most importantly, won't pollute your drinking water. The expense of copper has made its use in many homes unaffordable. The plumbing of the 624 N. Black Ave home has been completely replaced and upgraded with copper. In addition, the original water line has been replaced all the way to the street.
5. Electrical work: Older homes often do not have safety devices like ground fault circuit interrupters (GFCIs) and older electrical panels can create a fire hazard. Upgrading to a modern grounded system is expensive, as access available for wiring is limited. Older houses were built at a time when 60 amps was considered plenty of electricity for a single residence. However, anything less than 100 amps is unlikely to meet the electrical needs of a contemporary household. Electrical work in the City of Bozeman requires permits and can be a lengthy and expensive process. The 624 N. Black Ave home was permitted and has been completely rewired with Romex 12-3, and a new electrical panel was installed. Additionally, the electrical service to the home was replaced with a new underground service line.
6. Insulation Work: Because Bozeman is in a cold climate, keeping an older home warm in winter is expensive. The Department of Energy estimates that a properly insulated attic can shave 10 to 50 percent off your heating bill and it works the opposite way in summer, stabilizing indoor temps. 624 N. Black Ave was insulated throughout with R-19.
7: Windows and Trim: the old single pane windows were replaced with modern thermal efficient double pane windows. Floors, doors and moldings were salvaged and refinished. Decorative exterior lattice work was added.
8: Exterior Deck Joist: the floor joist supporting the exterior decking was doubled up for additional rigidity.
BOZEMAN LIFESTYLE
Due to it's wild-west roots and proximity to millions of acres of undisturbed wilderness, the Bozeman lifestyle continues to embody a spirit of adventure and freedom where life's accomplishments are measured in time spent outside rather than behind a desk.
THE TOWN
Both long time and recent residents of Bozeman, have developed sophisticated, worldly tastes that have encouraged entrepreneurs to invest in the town. Locally roasted coffee, fresh daily bakery treats, wood fired pizzas, farmers markets and craft breweries/distilleries are all within historic downtown.

THE MOUNTAINS
Six nearby mountain ranges offer a multitude of options in any direction to reconnect with the outdoors. Two thousand miles of trails link wilderness areas and mountain passes for incredible year round skiing and hiking adventures.

THE RIVERS
Water is one of Bozeman's most precious resources. Spend your days casting flies in remote, pristine mountain lakes, blue ribbon fly fishing rivers or streams so close you can walk to them from work.